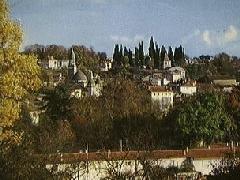 Travel options:
There are a few ways to get to Chauffour. You can fly to airports in the region then hire a car, or you can combine flights to Paris Charles De Gaulle airport with the TGV train from CDG. The train station is right in the airport so very convenient and takes around 3 hours to Angouleme, where you can hire a car. You could also take the train from London Waterloo via Lille to Angouleme; it takes around 7 hours.
The 2 closest airports to us are Bergerac (70kms), and Bordeaux (110kms), but you can also fly to Limoges, Poitiers, La Rochelle and Rochefort. (none of these airports are more than 2 ½ hours away by car)

Airline/Train links:
flybe.com: Birmingham to Bergerac, Bristol to Bergerac, Southampton to Bergerac (1hr), Southampton to Limoges (2 hrs) Belfast, Bristol & Southampton to Bordeaux (1+ hr), Exeter to Paris CDG (then take TGV to Angouleme), Southampton to La Rochelle (2hrs).
easyjet.com: Belfast to CGD (then TGV) Liverpool to Paris CDG then TGV to Angouleme, Newcastle Paris CGD then TGV to Angouleme.
ryanair.com: London Stansted to Bergerac (1hr), Stansted to La Rochelle (2h +), Liverpool to Limoges the car hire (2hrs), London Stansted to Poitiers then car hire (2hrs +)
Here is the link to the online train tickets/prices: voyages-sncf.com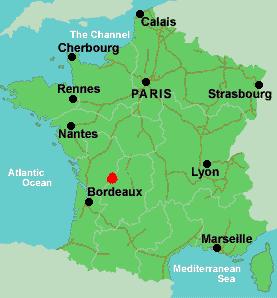 You can also hire a car. When you book your holiday with us, we will provide you with detailed maps and instructions on how to reach us.
The Area and Attractions
The hamlet of Chauffour is located in a quiet lane that meanders through the magnificent rolling Dordogne countryside.
There are numerous wonderful walks and cycle rides in the vicinity, passing by chateaux, farms, vineyards and woodlands, and the picturesque rivers Dronne is close by, with it's beaches at Aubeterre and St Aulaye. There are also many local cafes and restaurants where you can sit and sip an aperitif and sample some local foie gras, which this area is famous for.
Activities nearby include: golf,minigolf, tennis, fishing, canoeing, climbing and horse riding; and if your pastimes include bird watching and painting or drawing you will be amazed at the quality and quantity of subject matter!
Local events such as fetes, music festivals, art exhibitions, local handicraft and brocante (bric-a-brac) sales are held in villages close by on most weekends in the summer.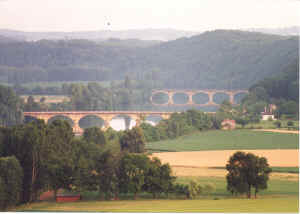 Places to Visit:
Brantome – the "Venice" of the Perigord region, only 35 minutes away, an "island" town surrounded by water and flanked by the abbey. A nice place to hire a canoe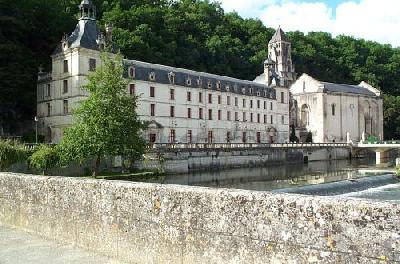 The chateau at Bourdeilles: from the 12th – 14th centuries with a great furniture collection, great for a wet day
St Emilion is 1 hour away, a world heritage site, even if you don't like wine it's worth a visit, especially to see the monolithic church and the lovely streets. There is also a "train" which can take you on a trip around all the local vineyards.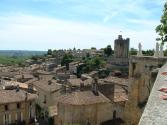 Famous Riberac Friday market where you can sample and purchase many local products including wine, cheese, foie gras, truffles (in season) and Pineau, an aperitif made from wine and cognac. There are also lots of other interesting stalls to browse.

Perigueux, 45 minutes away, with it's wonderful main square and narrow mediaeval streets is a gem, there is also the new Vesunna museum of the Roman period as there are many Roman relics here.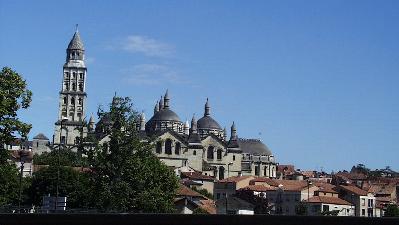 The old town of Bergerac, 1 hour away is full of medieval buildings and streets, which lead down to the river Dordogne where you can enjoy a riverboat trip in old wooden boats that were formerly used for shipping tobacco. Click here for images of Bergerac.
The sites along the river Dordogne can be done in a day trip from here, the towns of Sarlat, Domme, Rocamadour, Les Eyzies (where there are the famous prehistoric Lascaux 2 caves) and Montpazier are around 2 hours away. Why not have a day out, starting early and coming back home in a leisurely fashion via the sites?


The world famous Bordeaux wine region, if you like we can arrange a trip with a local oneologiste, Isabelle Roberty, who also runs wine and chocolate tasting courses locally.
Of course, there is always the option of us arranging a wine & cheese tasting evening for you if you wish! And, starting this summer, we can organize gourmet cooking courses with Valentina Harris, in her new venture just minutes from Chauffour! We can also organise for you a stained glass course!
Spend a day at beautiful Arcachon with its huge sand dunes. Take the cool box with a picnic and the boogie boards.



The port of La Rochelle is a couple of hours away, it is described as the most attractive and unspoilt seaside town in France. Boat trips can be taken from the harbour and there is a good beach 2kms out of town.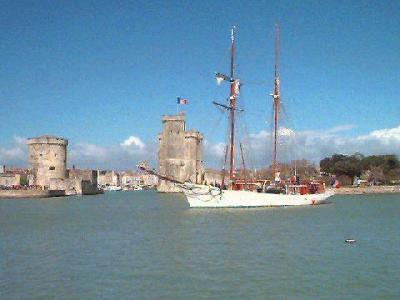 find your way to Chauffour with Maporama.com (search for Riberac village)
Useful links to other websites: